Contact
I´m looking forward to hearing from you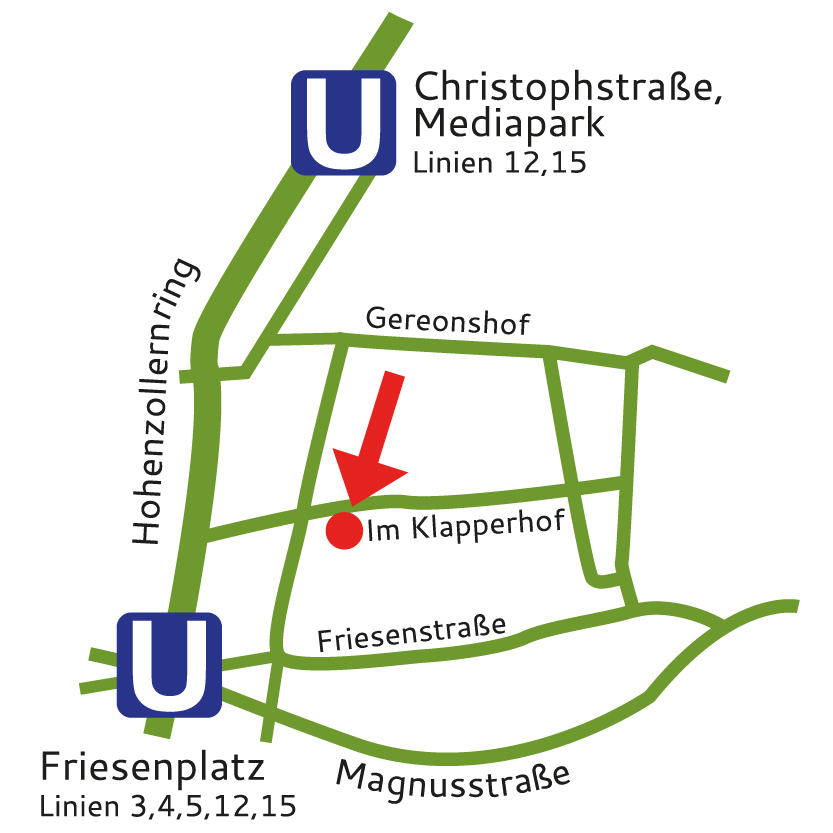 Dipl. Psych. Petra R. Nietz
Im Klapperhof 33a
50670 Köln
Phone: 0221 – 732 5675
Fax: 0221 – 946 2539
Email: info@petra-nietz.de
Trams and trains
Lines 3/4/5/12/15: Friesenplatz
Lines 12/15: Christophstraße Mediapark
Parking
The carparks at Im Klapperhof 13, Im Klapperhof 49 and at Alte Wallgasse 31 are recommendable. Easily you find cafés and good shopping facilities in the surrounding area.
Accessibility
The psychotherapeutical office is situated in a beautiful listed older building on the first floor. Two doorsteps are to be surmounted. In the hallway you find enough space to leave your buggy or wheelchair. Please bring a bikelock to save it additionally. I cannot assume liability for thievery or damage. The house is endued with a very small elevator.
Crisis intervention
If I am not available you should contact the Psychiatric Outpatient Clinic of the University Hospital of Cologne. You will the telephone numbers and addresses on my links page.